Advanced Technologies – Dallas, TX
The Best of Modern Dentistry
Dental technology is constantly changing and improving itself, allowing dentists to provide a higher quality of care in much less time while keeping patients more comfortable. Because of this, Dr. Sandadi is constantly investing in our dental office to make sure we have the latest, most state-of-the-art instruments. Thanks to this, appointments seemingly fly by, and our patients can't believe how easy it is to take care of their teeth. You can learn more about some of our advanced technology by reading on below.
Committed to State-of-the-Art & Comfortable Dental Experiences
Intraoral Cameras: See exactly what your dentist sees
Digital X-rays: Faster appointments, less radiation
3D Cone-Beam Imaging: Unmatched diagnostic precision
Nitrous Oxide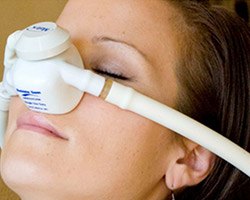 If you or your child feel anxious about receiving dental care, we not only completely understand, but we're ready to help as well. We can have a nervous patient inhale nitrous oxide through a small nasal mask, and after a few minutes, the colorless, odorless gas will help them completely relax both mentally and physically. We can use it for all types of procedures, and once the mask is removed, a patient will feel normal within minutes and be able to go straight back to their day.
Intraoral Cameras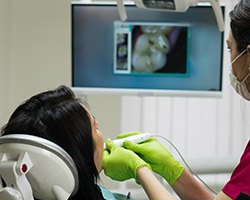 This small instrument will literally give you a whole new perspective on your smile! We can use it to take highly-detailed pictures of your teeth and gums, and we can even display them on a monitor right in the treatment room. Dr. Sandadi can then go over them with you, talking about the current state of your dental health and pointing out any problem areas that might require additional care. This way, you and him can always be on the same page.
Digital X-Rays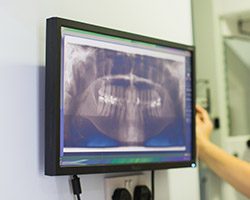 In many cases, dental issues can develop below the surface of the smile, and to make sure we don't miss a thing, we use X-rays every single day in our dental office. We've gone fully digital because they not only capture higher-quality images compared to traditional film X-rays, but they also take much less time to develop. And, they emit about 90% LESS radiation, by comparison, giving many of our patients (particularly those with young children) peace of mind.
3D Cone-Beam Imaging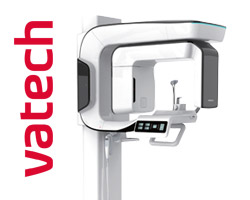 When planning a very involved and delicate procedure like dental implant placement, Dr. Sandadi likes to have as much information about a patient's dental anatomy that he can, much more than what a traditional 2D X-ray can tell him. This is when he likes to use our Vatech cone-beam scanner, which creates a highly-detailed, fully 3D X-ray image of a patient's teeth, jaws, as well as the surrounding nerves. This enables Dr. Sandadi to put together extremely precise treatment plans that guarantee the success of a procedure as well as an easy recovery.