Dental Crowns – Dallas, TX
Make Damaged Teeth Look Like New
If you have a large cavity or severely broken tooth, a filling simply isn't going to be enough to repair it. A dental crown is likely the best solution, and Dr. Sandadi can give you a completely custom-made restoration right here in Dallas. He personally designs each and every crown he provides so that they not only look great but fully restore the strength and function of a tooth as well. If you're ready to finally take care of that problem tooth, he can fix it in as little as two appointments. To get started, call us today.
Why Choose Highland Smiles Dental for Dental Crowns?
Crowns designed to look natural & last for decades
Partnered with the best dental labs in Dallas
Friendly & highly-skilled team
What is a Dental Crown?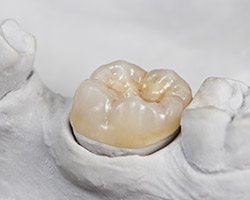 A dental crown, just like its name would lead you to believe, actually sits directly on top of a damaged tooth. It helps protect the remaining natural structure, and it's also shaped to restore a tooth's shape, size, and overall appearance at the same time.
What is the Procedure Like?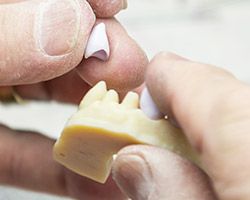 After you and Dr. Sandadi both decide that a dental crown is the best option for your smile, he'll start the procedure by numbing your tooth, and then he'll gently remove any decayed portion. The tooth will then be reshaped so that a crown can fit securely over it. He'll take an impression, and this will be sent to a dental lab to make your crown. He'll give you a temporary restoration in the meantime.
At a follow-up appointment about a week or so later, he'll remove the temporary, cement the permanent crown into place, and do a few more final checks before sending you on your way.
How Do You Take Care of a Crown?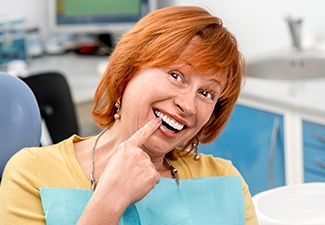 The best way to make sure that a crown lasts for decades is to simply practice good oral hygiene, which consists of brushing and flossing every day as well as attending regular checkups and cleanings here at Highland Smiles Dental. With the proper care, a crown can easily look great and function normally for about 20 years.