Gum Disease Treatment – Dallas, TX
Healthy Gums=Healthy Smile
Obviously, there is more to your mouth than just your teeth! The gums provide essential support for your smile and also protect the roots of your teeth, so they're extremely important to your overall oral health. If you're experiencing any redness, swelling, or sensitivity in your gums, then it's best for you to give us a call sooner rather than later. You may have early-stage periodontal (gum) disease, which is an infection that can lead to tooth loss if ignored! Fortunately, Dr. Sandadi and our team know how to take care of it with targeted therapies, and you can get the care you need by giving us a call today.
Why Choose Highland Smiles Dental for Periodontal Therapy?
Periodontal screenings performed at every appointment
Cleanings specially designed to treat periodontal disease
Extremely skilled & friendly team
Scaling and Root Planing/ Periodontal Maintenance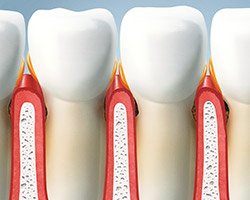 Scaling and root planing are required if you have a severe form of gum disease called periodontitis, a chronic bacterial infection that can damage the gums and supporting structures of the teeth. Scaling and root planing involves removing the plaque and calculus (hardened plaque) that harbor bacteria below the gum line. After the procedure, we will work with you to design a customized maintenance regime that is suitable for you.
Arestin® Antibacterial Therapy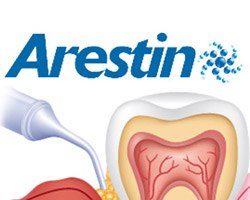 Periodontal disease bacteria like to hide deep within the tiny spaces between your teeth and gums, and these pockets are very difficult to clean with just scaling and root planing alone. So, we can apply a topical antibiotic to the gums called Arestin. It quickly dries, and then it slowly dissolves over the course of a few days, allowing a powerful antimicrobial medicine to seep below the gum line and kill any remaining bacteria.