Veneers – Highland Park, TX
Smile Like Your Favorite Movie Stars
When you look in the mirror, are there just too many things about your pearly whites that make you feel self-conscious? If so, you might have trouble deciding which cosmetic dentistry treatment would best suit you. At Highland Smiles Dental, Dr. Sandadi offers a cosmetic service that can fix the vast majority of smile imperfections in one fell swoop – veneers. Once these porcelain sheaths are placed over your teeth, you'll instantly be able to smile like your favorite movie stars. To get started on transforming your smile with veneers in Highland Park, just give us a call!
Why Choose Highland Smiles Dental for Veneers?
Little to No Wait Times
Treatments Specially Designed for Each Patient
Partnered with the Best Dental Labs in Dallas
What Are Veneers?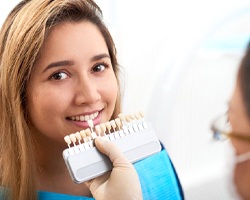 A veneer functions similarly to a dental crown, but instead of covering the entire tooth, it's only placed on the front – the part that is visible when you smile. These days, veneers are typically made from dental porcelain. This material is not only highly durable, but it can be custom-shaded to blend in with your smile, ensuring seamless results.
Because veneers cover the entire front-facing surface of a tooth, virtually all aesthetic flaws – chips, stains, cracks, gaps, etc. – can be concealed at the same time.
The Veneers Process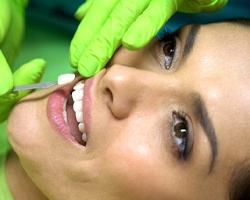 It generally takes two appointments (not counting your consultation) to place veneers. During the first of these visits, Dr. Sandadi must prepare your teeth by shaving off a layer of enamel equal in thickness to the veneers you'll receive (about as thin as a contact lens). We can then capture impressions of your teeth to send to a partnered dental lab. The lab may take a few weeks to craft your veneers, so we might place temporary veneers in the interim.
At your second appointment, we'll exchange your temporaries for your permanent veneers. After making any last-minute adjustments, we'll cement them onto your teeth and let you enjoy your brand-new smile!
Benefits of Veneers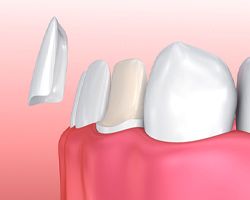 Here are just a few of the reasons why veneers in Highland Park are becoming increasingly popular:
Each veneer is 100% personalized to match your unique smile. Because of this, your results will look so natural that onlookers won't even be able to tell that you had dental work done!
Dental porcelain is very resistant to stains from coffee, tea, wine, tobacco, etc. You should be able to enjoy a brilliantly white smile for years to come.
Veneers are a more conservative treatment than dental crowns, as they require less enamel to be removed in preparation.
You can expect your veneers to last for a decade or more if you take good care of your oral health.