Dental Implants – Dallas, TX
The Next Best Thing to Natural Teeth
Dental implants are an excellent choice to replace any number of missing teeth. Instead of just restoring the part of the tooth you can see (the crown), a small post is placed into the jawbone to bring back the root as well. In the end, you get something that looks, feels, and functions just like a natural tooth, and patients can look forward to it lasting for decades to come. If you're ready to have a complete and confident smile again, contact us today to schedule an implant consultation.
Why Choose Highland Smiles Dental for Dental Implants?
Implant placement & restoration completed under one roof
Restorations custom-designed for each patient
Flexible financing makes treatment extremely affordable
How Dental Implants Work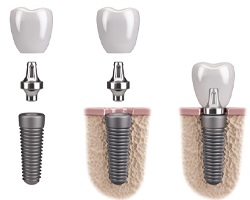 By now, many people have heard that dental implants are a wonderful solution for tooth loss because they provide so many benefits that options like bridges and traditional dentures can't. But it's common to have questions about how implants work and what you can expect from the process. From the initial consultation to the final restoration, we've put together a short "how-to" to explain how the implant procedure works.
Learn More About How Dental Implants Work
Benefits of Dental Implants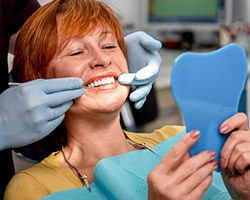 Security: As we touched on above, instead of just sitting on the gums or leaning on neighboring teeth, dental implants are anchored directly into the jawbone. This gives them a stability and security only matched by real teeth, enabling patients to eat anything they want with ease.
Appearance: Implants are topped with custom-made porcelain restorations, giving them a lifelike appearance that makes them indistinguishable from natural teeth.
Bone Retention: When a tooth goes missing, the jawbone in the area usually starts to shrink as time goes by, leading many people to develop a "sunken" facial appearance. Because of the new tooth roots, dental implants are the only treatment that can stop and even reverse this process, leading to a much stronger and more attractive smile overall.
Durability: With just standard oral hygiene, a dental implant can easily last for the rest of a patient's life.
Indications for Dental Implants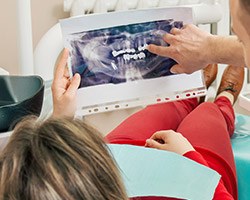 No matter how many teeth you are missing, dental implants are still an option. After a brief exam, Dr. Sandadi can recommend which of the following restorations is best for you:
Missing a Single Tooth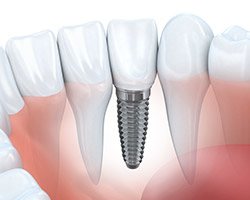 Instead of having to file down healthy teeth to support a bridge, Dr. Sandadi can simply place a dental implant into the jawbone and top it with a dental crown. The surrounding teeth aren't affected at all!
Learn More About Single Tooth Dental Implants
Missing Multiple Teeth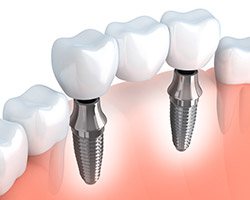 For patients missing more than one tooth in a row, just two dental implants can be used to support up to four prosthetic teeth. This is much more cost effective than replacing each tooth with an individual implant, and implant bridges are much stronger and natural-looking than traditional ones as well.
Learn More About Missing Multiple Teeth
Missing All of Your Teeth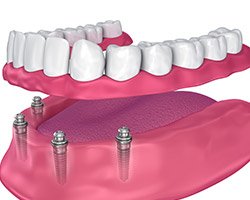 Using just four to six implants, Dr. Sandadi can restore an entire row of teeth with a full denture. The prosthetic is attached directly to the jawbone, so patients don't ever have to worry about their teeth shifting or moving unexpectedly in their mouth.
Learn More About All-On-4 Dental Implants
Start-to-Finish Convenience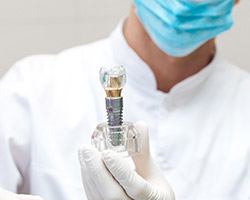 To help patients reclaim their full smiles as quickly and efficiently as possible, Dr. Sandadi has undergone extensive training so he can perform the entire implant procedure himself, including the surgical placement of the new roots. Most other dental offices have to refer their implant patients to an outside specialist, adding time and expense to the entire process. Instead, at Highland Smiles Dental, you'll be able to get everything you need in one convenient location provided by the dentist and team that you trust.
Understanding the Cost of Dental Implants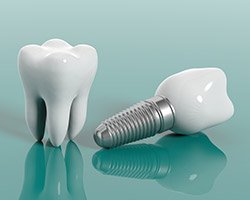 Every dental implant procedure is different depending on each patient's specific situation, and because of this, the cost of the treatment can vary quite a bit as well. The following factors will have a direct effect on the final price of your dental implants:
The number of implants used
Where the implants are located in the mouth
The type of restoration used
The need for any tooth extractions or bone grafts beforehand
The need for additional X-rays, scans, or sedation
Because of the high-quality materials used and their superior function and aesthetics, implants do tend to cost more upfront than other traditional tooth replacements, but they are still the best investment if you're restoring your missing teeth. Why? Because of their longevity. Regular bridges and dentures usually have to be replaced every 7-10 years, while a dental implant can easily last for 30 or more. Over time, a patient won't spend as much on implants because they require less maintenance and retreatment.
Learn More About the Cost of Dental Implants
Frequently Asked Questions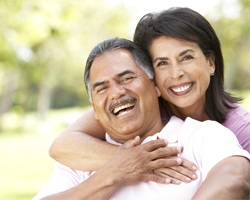 Even with all this information at your fingertips, you may still have important questions about dental implants. We want you to feel completely confident moving forward in your treatment, so we welcome the opportunity to explain your options in more detail. Below are some answers to questions that we've received from patients in the past. We hope these will address your concerns, but certainly feel free to contact our Dallas office if you have additional questions!
What is the success rate for dental implants?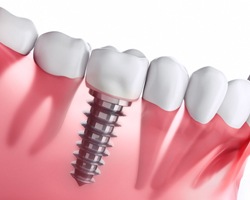 For a strong majority of cases, dental implants are highly successful—about 97 percent. In fact, twenty years after the placement procedure, about 90 percent of dental implants are still working and performing well for implant patients. Why are they so successful? Before he begins placing dental implants, Dr. Sandadi uses advanced digital X-rays and our 3D Cone-Beam Imaging technology to get a thorough view of your facial structures, tissues, blood vessels, and more. This information allows him to accurately plan out the procedure and pave the way toward effective treatment. You can rest assured that your smile is in capable hands.
What can cause dental implant failure?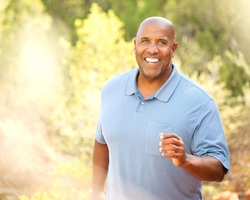 Although dental implants are successful most of the time, they do sometimes fail. Often, there is a pre-existing infection or condition, such as osteoporosis, that prevents the tissue and bone from being able to support the implant properly. That's why it's important to be completely honest with Dr. Sandadi about your medical conditions and history. He will do all he can before and during the procedure to make sure that you enjoy a successful experience and a strong, healthy smile as a result.
In the long term, dental implants can eventually fail due to gum disease or other infections or a lack of proper maintenance.
How can I make my dental implants last longer?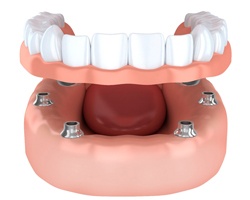 You play a significant role in determining the longevity of your dental implants. The good news is that how you should care for your implants resembles how you care for natural teeth. Simply put, you need to brush and floss daily and visit us at Highland Smiles Dental twice every year for a checkup appointment. If you maintain these healthy habits, you should be able to stretch your dental implants' lifespan to 30 years or even longer.
What is the process for getting dental implants?
After your consultation with Dr. Sandadi, the procedure for getting dental implants goes like this:
If any preliminary work needs to be done, such as a bone graft, he will perform that first.
Then, he will surgically place the titanium posts deep into the gums so that they stimulate the jaw bone.
Over the course of several months, the bone will fuse to the post and the tissue will heal and support the implant.
You will return to our office so that Dr. Sandadi can attach the abutment piece. We will then take impressions of your mouth and send that information to a dental lab, where your custom restoration will be crafted.
Finally, we will bond your dental prosthetic to the implant, giving you a completely restored smile top to bottom—all at one, convenient office!