Emergency Dentistry – Dallas, TX
Always Here When You Need Us
Dental emergencies happen way more often than you might think, and when you're in the middle of one, the last thing you want to do is have to go looking on the internet for where you can get urgent care. Instead, you can be prepared by simply putting Highland Smiles Dental into your phone right now. We're ready and able to treat emergency patients, and Dr. Sandadi is the type of doctor who will stay late or work through lunch so he can get a patient out of pain as quickly as possible. When you need dental care right NOW, we're the people to call, and you can trust that we'll always be able to help.
Why Choose Highland Smiles Dental for Emergency Dentistry?
Same-day appointments available for emergency patients
Highly-skilled & experienced team
Patient needs always come first
How to Handle Common Dental Emergencies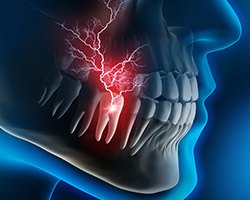 Whether you're dealing with a severe toothache or some type of dental injury, the first thing you should do is give Highland Smiles Dental a call. Seeking out professional care is the best way to get immediate pain relief and prevent the problem from getting much worse. However, there are a few things you can do in the time before you're able to reach our dental office that can help improve the situation. Here are some quick first-aid tips for some of the most common dental emergencies:
Toothaches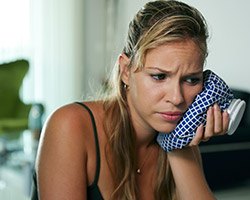 A toothache can be the result of a dental infection or a small crack, but in either case, applying a cold compress to the face or taking an OTC-pain reliever can help lessen any discomfort. It's also a good idea to gently clean around the tooth to dislodge anything that might be stuck and causing pain.
Chipped/Broken Tooth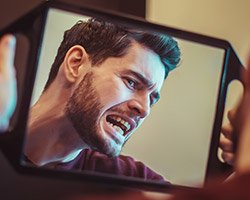 Do your best to gather up as many pieces of the tooth as possible and put them in a safe container. If the remaining tooth has a jagged edge that is causing irritation in the mouth, you can place a small amount of dental wax or a wet cotton ball over it.
Knocked-Out Tooth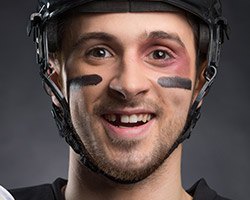 Knocked-out teeth can be put back into place, but only within an hour or two of the initial accident, so you need to act fast in this situation. Find the tooth, gently rinse it, and try to put it back into its socket if possible. If not, it needs to remain wet, so put it in a container of milk or saltwater.
Lost Filling/Crown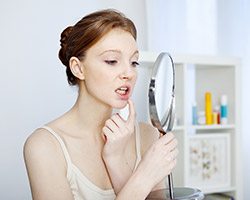 Find the restoration and attempt to put it back into place on/in the tooth. A bit of toothpaste can help serve as a temporary glue. If the tooth is experiencing any pain, it's okay to take an OTC-pain reliever.
How to Prevent Dental Emergencies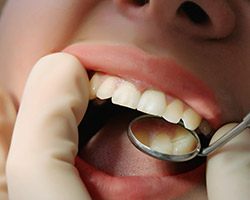 Sports-related accidents are one of the most common causes of dental injuries, so make sure you and your children always wear a protective mouthguard every time you play, whether the game involves physical contact or not!
Don't use your teeth as a tool to open packages or bottles.
Don't bite down onto extremely hard items like ice, rock candy, pens, pencils, fingernails, etc.
Maintain consistent oral hygiene to keep your teeth strong and resistant to decay.
Come to Highland Smiles Dental for routine checkups and cleanings so we can treat small problems before they can turn into a big emergency later!
The Cost of Treating Dental Emergencies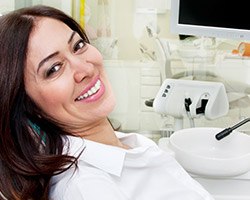 Because there are varying degrees of dental emergencies, ranging from mild toothaches to several broken/knocked-out teeth, the cost of treating one is always different from patient to patient. Sometimes, all we need to do is place a small filling, or a tooth might require a root canal and a crown. We'll base our treatment recommendations on your particular situation, but our primary goal will be to get you out of pain first. Then, we'll worry about repairing your tooth/teeth.
Dental Emergency FAQs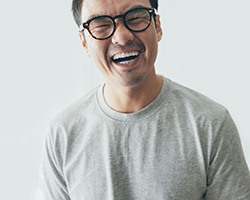 Are you worried about what you should do during a dental emergency in Highland Park? When you contact our office, our team will guide you through any first-aid measures you should take to prevent additional damage and schedule an appointment for as soon as possible. We have also answered some common questions we receive from our patients below, for your convenience.
Should I visit the ER or an emergency dentist?
Many patients wonder whether they will receive the most prompt and pain-easing care from an ER or their emergency dentist in Highland Park. Unless you're suffering from life-threatening issues, such as a broken or fractured jaw, a deep facial laceration that requires stitches, or any problem affecting your ability to easily breathe or swallow, it's almost always better to visit your emergency dentist.
When you visit a dental specialist, they'll be able to ease your pain while also providing you with a treatment that will keep the issue from coming back in the future. However, if you go to an ER, all they will be able to do is stabilize you, because they rarely have dentists on staff at hospitals. Plus, emergency dentists also provide fast treatment, so you won't have to worry about waiting around all day while you're in pain.
Do I need my tooth extracted?
At Highland Smiles Dental, our team understands that there's no substitution for your natural pearly whites, which is why we always try to save them before we extract them. However, in certain situations where the tooth is no longer viable and it will only damage your mouth more if we leave the tooth where it is, we may suggest removing it. This is typically the case for teeth that can't be treated with root canal therapy, are severely damaged beyond repair, or for wisdom teeth that don't have enough room to grow into your mouth.
If I go to an emergency dentist, can they see me today?
Yes! Our team works tirelessly to see patients who are in pain the same day that they call our office. All you have to do is contact us over the phone and we'll make sure to fit you in our schedule. That way, you won't have to sit in discomfort or leave your oral health problem to get worse. If you have any concerns or are anxious about your situation, we'll provide you with over-the-phone guidance to ensure that your mouth stays healthy until you reach our office.
Do you offer sedation for emergency patients?
We understand that dental emergencies are stressful situations to deal with, especially if you already suffer from a dental fear. That's why we offer sedation methods like nitrous oxide to help calm your nerves and make you comfortable. If you have any questions about sedation dentistry for emergency situations, you can ask one of our team members over the phone when you call to make an appointment.