Restorative Dentistry – Dallas, TX
Renew Your Smile
Decayed, chipped, and cracked teeth are all relatively small problems on their own, but over time, they can spell real trouble for a smile, causing chronic pain along with a multitude of aesthetic issues. Rather than letting this happen, Dr. Sandadi can practically turn back the clock for your teeth with restorative dentistry. Using his artistic touch and the finest materials, he can make practically any decay or damage virtually disappear, leaving a perfectly strong and healthy tooth in its place. If your smile is in need of a little TLC, give us a call today to get the care you deserve.
Why Choose Highland Smiles Dental for Restorative Dentistry?
Restorations specially-designed for each patient
Designed to look natural & last for decades
Partnered with the best dental labs in Dallas
Dental Crowns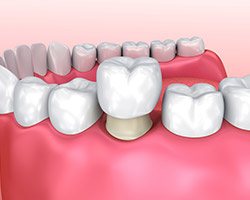 Crowns are used to repair damaged teeth, particularly if the tooth is not restorable using a simple filling. Crowns can help with teeth that have developed decay, a fracture, or contain a large filling that has become broken. We can provide all-porcelain crowns or porcelain fused to metal crowns. If you need one, we will discuss which material best suits your situation. In most cases, the procedure takes two appointments from start to finish.
Learn More About Dental Crowns
Tooth-Colored Fillings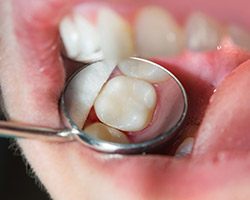 If a small part of your tooth is damaged because of tooth decay, we will remove the decay and place a tooth-colored filling to restore it. They are made of a composite resin material that comes in several natural shades, meaning we can easily match it to any patient's enamel color, helping the restoration seamlessly blend into the smile. And, because they are metal-free (unlike traditional fillings), they also don't make a tooth more sensitive to hot and cold temperatures.
Learn More About Tooth-Colored Fillings
Dental Bridges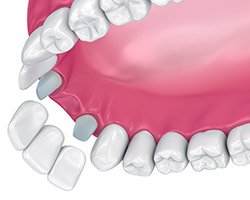 A dental bridge is a type of prosthetic we can use to replace a single missing tooth or even a few in a row. The teeth adjacent to the gap will be topped with dental crowns, and these will be used to support the prosthetic teeth that literally "bridge" the space. In addition to improving the overall look of the smile, bridges can also help bring back balance to the bite and prevent the remaining teeth from shifting out of place.
Dentures & Partial Dentures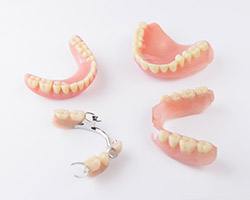 Dentures are removable prosthetics used to replace a few or all of the teeth. Making dentures involves attending several appointments because Dr. Sandadi personally designs them based on each patient's unique dentition. He may recommend a partial denture if you have any remaining healthy teeth, or he can give you a full denture to replace an entire row. In any case, he'll work with you to find the perfect look and fit so you can smile and eat with complete confidence.