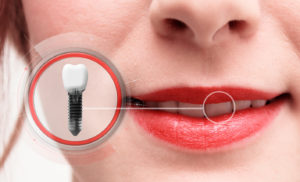 According to the American Dental Association, 5 million dental implants are placed in the U.S. each year. With a reputation as a long-lasting and reliable tooth replacement solution, many adults who undergo dental implantation expect their new teeth to be a part of their smile for many years to come. But just how long do dental implants actually last? Your dentist examines the lifespan of dental implants in Dallas and shares how to prevent dental implant failure.   
What are the Parts of a Dental Implant?
To fully understand the longevity of an individual dental implant, let's first look at an implant's different parts:
#1: Implant – A small titanium post that is surgically inserted in the jawbone and mimics the natural tooth root structure to provide a stable base for the crown.
#2: Abutment – Attaches to the implant and connects it to the crown.
#3: Crown – An artificial tooth that is fastened to the abutment on top of an implant.
Generally speaking, compared to the implant fused to the jawbone, the exposed abutment and the crown are more susceptible to damage.
How Long Do Dental Implants Last?
With proper care, a dental implant itself can last for decades or even a lifetime! To help preserve a healthy dental implant, it is critical to brush at least twice a day and floss daily. In addition, patients with dental implants should visit a dentist in Dallas every six months for regular checkups. Biannual dental exams are an excellent opportunity to check if a dental implant is still in good shape and take measures to prevent oral health problems that could negatively affect the implant.
Remember the 3 parts of a dental implant? While an implant itself can last a lifetime, it's important to note that a crown typically lasts 10 to 15 years before normal wear-and-tear leads to replacement. Practicing excellent oral hygiene could extend the life of a crown beyond the average 15 years.
When do Dental Implants Fail?
With a high success rate of approximately 98%, dental implants are a reliable, effective means to replace missing teeth. However, in rare cases, implants can fail prematurely due to a variety of factors. Patients who use tobacco, suffer from diabetes or a preexisting medical condition such as cancer all have a higher risk of experiencing dental implant failure.
In addition, patients who do not practice excellent oral hygiene at home increase their likelihood of dental implant failure. For example, poor dental home-care can lead to gum disease, which in turn can impede the success of a dental implant.
Understanding the lifespan of dental implants in Dallas can help you decide if they are the right tooth replacement option for you. If you are interested in joining the millions of Americans that restore their smile with dental implants each year, talk to a dentist in Dallas today!
About the Practice
At Highland Smiles Dental, every step of the dental implant procedure is accomplished under a single roof. Led by Dr. Girish Sandadi, the team at the well-known Dallas dental practice helps patients fill in the gaps in their smile with high-quality, natural-looking implants. For more information on dental implants visit the Highland Smiles Dental website or call Dr. Sandadi at (214) 528-9990.