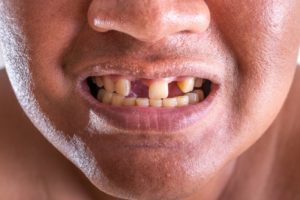 If you're missing a tooth, especially if it's in the back of your mouth, it can be hard to find the motivation to get it replaced. However, not replacing your tooth could cause a lot more than just cosmetic problems. Gaps in your smile can actually put your oral health at risk. Let's look at what else can happen if you don't replace your missing teeth with dental implants in Highland Park.
What Problems Do Missing Teeth Cause?
Besides just your appearance, missing teeth can result in several health issues, such as:
Bone loss. Whenever you bite and chew, the roots of your teeth stimulate your jawbone. If you're missing a tooth, that area of your jawbone begins to shrink from disuse, making your face look much older.
Crooked teeth. If there is a gap in your bite, the surrounding teeth will shift to try and fill it. This can make your teeth crooked, so even if your missing tooth is in the back of your mouth, it can cosmetically affect the teeth in front.
Cavities and gum disease. Crooked teeth make it harder to reach all parts of them when brushing and flossing. This increases your chance of plaque buildup that causes tooth decay and gum disease.
TMJ problems. Your temporomandibular joint (TMJ) connects your jaw with your skull. When your teeth are out of position, the TMJ undergoes stress, which can cause severe headaches and other pain.
Diet changes. Missing teeth make it harder to enjoy chewy or crunchy foods.
How Can I Replace My Missing Teeth?
The only tooth replacement option that solves all the problems listed above is a dental implant, which is a post made of titanium that is surgically inserted underneath the gumline to replace the root of a lost tooth. The implant is then covered with a crown to make it look, feel, and function exactly like a natural tooth. Some advantages of dental implants include:
Stimulation of the jawbone to prevent deterioration
Can last for decades
Indistinguishable from natural teeth
Highly durable
Are Dental Implants Right for Me?
The ideal candidate for dental implants:
Has healthy gum tissue and jawbone to support the implant
Is in good oral and general health
Doesn't have any diseases that could compromise healing, such as diabetes
A commitment to regular brushing, flossing, and seeing their dentist in Highland Park
If you're missing teeth, ask your dentist if dental implants are right for you.
About the Author
Dr. Girish Sandadi earned his Doctor of Dental Surgery degree at the University of Michigan at Ann Arbor. He treats his patients at Highland Smiles in Highland Park, TX with the most up to date technology and information thanks to his dedication to continuing education courses. If you're interested in replacing your missing teeth with dental implants, contact the doctor at (214)-528-9990.