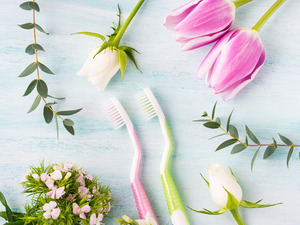 When you hear the words "spring cleaning," you probably think of giving your home a thorough dusting and throwing out any clutter that you don't need. However, spring can also be a good time to take a second look at your dental hygiene routine and make a few adjustments to ensure that you continue to take excellent care of your smile. Need some ideas for a dental spring cleaning? Here are a few suggestions your dentist might make.
1. Upgrade to a Better Toothbrush
It's recommended that you switch to a new toothbrush every three to four months. However, instead of getting a toothbrush that's exactly like your old one, you may want to consider getting an upgrade.
For example, some toothbrushes have firm bristles while others have soft bristles. It's easy to assume that firm bristles will offer a better cleaning, but in reality they can be very hard on your teeth and gums. Making the switch to a softer toothbrush can help you protect your grin.
Additionally, while traditional manual toothbrushes are still effective for removing plaque, electric ones tend to offer more thorough cleanings thanks to the vibrations or rotating movements of the brush heads. Think about picking up an electric toothbrush the next time you're at the grocery store.
2. Don't Forget to Clean Your Toothbrush Holder
You probably already know to rinse your toothbrush off when you're done using it, but what about its container? Much like anything else in your bathroom, your toothbrush holder is a potential target for harmful germs and bacteria. It's highly advisable to give the holder a thorough cleaning before you put a new toothbrush in it.
You can wash your toothbrush holder by hand in soapy water. However, it may be easier to run it through the dishwasher on a weekly basis. Take whatever cleaning approach you're comfortable with.
3. Check the Expiration Dates on Your Toothpaste and Mouthwash
Expired mouthwash can be a potential breeding ground for dangerous bacteria. And while expired toothpaste typically isn't actively harmful, the fluoride it contains will have likely degraded, making it much less effective for preventing cavities. Check your oral hygiene products and throw out any that aren't good anymore.
4. Set Up an Appointment with Your Dentist
Do you not remember the last time you saw your dentist? If so, you can make scheduling a dental appointment part of your spring cleaning plan. Your dentist can give your teeth a thorough polishing and get rid of any tartar that has built up during the winter months. They can also make suggestions for improving your daily oral hygiene routine.
About the Author
Dr. Girish Sandadi earned his Doctor of Dental Surgery at the University of Michigan at Ann Arbor. He is a member of the American Dental Association and the Texas Dental Association. At his Dallas practice, Highland Smiles Dental, he treats his patients like family and offers a variety of services to keep their smiles healthy. To schedule a spring consultation with Dr. Sandadi, visit his website or call (214) 528-9990.